Narrowboat Scruffy Fox
Scruffy Fox is a 50' semi-traditional style narrowboat built by J L Pinder in 1990. She is a well built vessel in 10/6/3.5 steel plate (almost certainly from high quality British Steel) and John Pinder boats are known for their easy handling as well as overall build quality. A survey in 2015 found the 25 year old hull to be in very sound condition.
Scruffy Fox was purchased second-hand in early 2002, and has been operating successfully in shared ownership since that time.
Sleeping accommodation comprises a small single cabin with cross-bed, a main cabin with a fixed double bed and a bed settee in the saloon that serves as a generous single or pulls out to a (narrow) double berth. With the settee used as a single, there is room for an 'occasional' bed on the floor alongside, using the backrest cushion or a folding mattress (provided).
There are two Central Heating systems. The first is a Lockgate/MorsØ diesel fired Squirrel stove that heats the saloon directly and redistributes some heat, by convection, to radiators along the starboard side. This system is excellent for background warmth and has the dual advantages of being silent and using no electricity.
Secondly, there is a pumped Eberspacher diesel fired boiler supplying radiators around the boat as well as providing domestic hot water. This system operates much more like a home Central Heating system, in that it can control temperatures automatically and will heat the whole boat fairly quickly.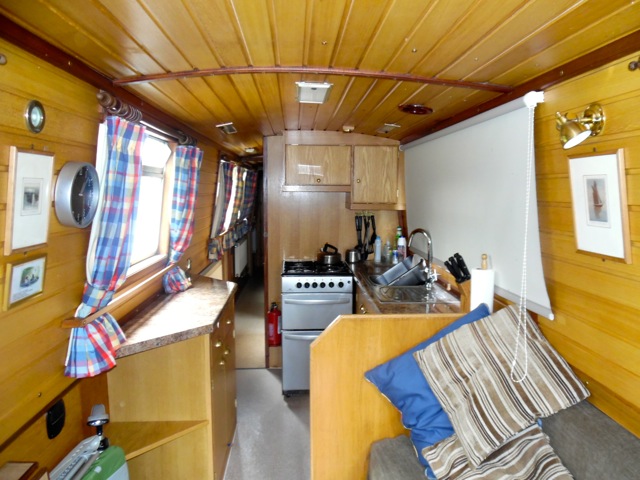 The galley is well equipped, with a free-standing gas cooker, sink, fridge, microwave (in dedicated high level cupboard), toaster and generous storage.
The shower/toilet compartment houses a portable toilet that can be emptied free of charge at CRT sanitary stations and most boatyards (some make a nominal charge).
Up to 1.8 kw of 'mains' electricity (230v AC) is available for low level or occasional use (vacuum cleaner, microwave, toaster, chargers etc.).
The boat is fully equipped except for bed linen (duvets & pillows provided), towels & tea towels.
Privacy: scruffyfox.org.uk does not use web cookies
and does not collect personal data.